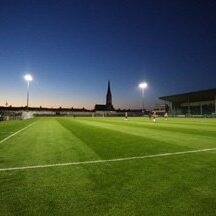 The Markets Field is one of the most famous sporting grounds in Ireland, currently used for soccer. It is a UEFA Category Two Stadium with a capacity of 5,000. The ground has hosted international fixtures and Treaty United currently plays senior soccer there.
LEDP's intervention
The future of the grounds as a sporting facility for the city of Limerick was secured by the purchase of The Markets Field in 2011 with funds provided to LEDP by the JP McManus Charitable Foundation and Government. LEDP pledged additional funds for application on the drainage, relaying and sodding of the pitch with the purpose of ensuring that the pitch was playable for the FAI 2014 season.
The stadium has a spectator capacity of 5,000, including 1,500 spectators seated in covered stands. The Markets Field also has the capacity to host other sports and is to operates on a self-funded basis. The pitch can be adapted to accommodate a full size rugby pitch and may also host under age GAA games.